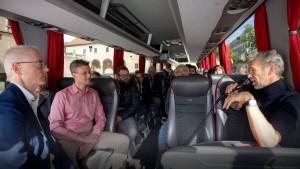 DESIGNBUS
Munich Creative Business Week
Probably the most inspiring way of transportation imaginable.
"Technology like our printed-light is first and foremost an enabler. It enables the design and development of goods that bring joy and benefit to people."
Ambright founder and CEO Dr. Florian Ilchmann had the honor of answering Dr. Oliver Herwig's questions together with Bernhard Dessecker, a former designer at Ingo Maurer GmbH, and describing his very personal journey from an engineer to a technology and inspiration supplier for the design industry.
The great thing is that Dr. Oliver Herwig is not concerned with pure success stories, but always with illuminating personal drive, passions, turning points and backgrounds. And about the question of what actually constitutes good design. In this way, the DESIGNBUS is also a journey through the personal universe of the discussion guests.

Thanks to the #DESIGNBUS, Dr. Oliver Herwig, and the interested audience!
Photography: Erol Gurian & Marian Wilhelm