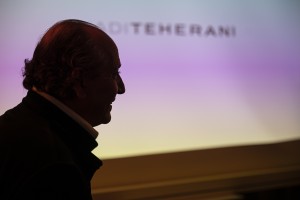 Oh what a night!
Hadi Teherani about architecture and design
What an evening. A full house, over 100 guests and a program that had it all: design, architecture, art and technology - what sounds like a wild ride was actually combined into one big, exciting whole.
Engineer and Ambright Managing Director Dr. Florian Ilchmann gave an introduction to the enormous potential of light printing and the unique SparkShape luminaire. Veronika Lindner from the Lindner Group gave interesting impressions on the subject of "circular building" and where the journey is heading in the global context of interior design and building design.Stuttgart designer Simon Busse reported on the genesis of his impressive first SparkShape Masterseries for Ambright, which was created using printed-light technology. Artist "BUJA" not only celebrated his vernissage with us that evening, he showed us how to use the art of deconstruction to break the learned patterns of perception of your usual surroundings.And finally, as a highlight as well as Grand Final, Hadi Teherani. The internationally awarded star architect and top designer showed us how he combines architecture, design and technology in his buildings. Architecture as border crossing. Predicate: Ingenious. We are still very impressed by the incredible charisma and humorous manner of this unique man. It was a great honor for us to welcome Mr. Teherani in our premises and we would like to express our high appreciation once again.
In short: It was an entertaining evening that opened up new horizons. The audience was enthusiastic. And so were we. Many thanks to all involved.
(Photography: Erol Gurian)